Full-Service Hospitality
GHMI properties consistently perform above the industry benchmarks.
About Gibson Hospitality Ventures and Gibson Hotel Management, Inc.
Gibson Hospitality Ventures ("GHV") and Gibson Hotel Management, Inc. ("GHMI"), both located in Knoxville, Tennessee, are privately owned companies engaged in hotel development, investment, and management. Our corporate culture is grounded in family values, integrity, discipline, and honesty, which have been instrumental in our long-standing record of success.
In 2000, Gibson Hotel Management, Inc. was established to manage and develop full-service and limited-service hotel properties, with a commitment to quality service and flawless execution. More recently, in 2022, Gibson Hospitality Ventures, LLC was formed to operate lifestyle hotels, resorts, restaurants, multifamily, and travel centers, expanding our portfolio further.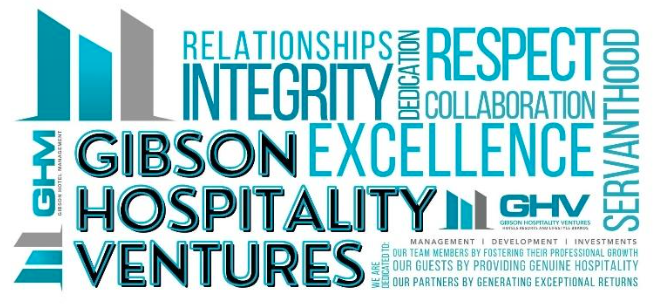 As a vertically integrated organization, we leverage our strategic partnerships and extensive experience with major global hospitality franchises, such as Sports Illustrated Resorts & Hotels, Margaritaville, Marriott International, Hilton Worldwide, InterContinental Hotels Group, Wyndham, and Choice. Our primary goal is to deliver exceptional services to our guests while creating value and maximizing return on investment for our investors.
Corporate Highlights
Collaboration: Chosen to collaborate on the co-design, ownership, management, strategic planning, and brand development of the inaugural U.S. Sports Illustrated Resort in Sevierville, TN. Estimated to cost approximately $150 million, the resort is currently in the design and brand development phase, with a sports-themed entertainment complex covering 17 acres around the hotel, enhancing the guest experience. In the preliminary planning stages for additional Sports Illustrated Resorts & Collegiate Hotels in various locations nationwide, with site announcements scheduled for 2023 and 2024.
Strong Asset Management: Our assets under management currently stand at $800 million as of August 2023, demonstrating our ability to effectively oversee and maximize investments.
Marriott Partnership Circle Award: Three-time winner of the prestigious Marriott Partnership Circle Award, recognizing the top management companies in the Marriott system.
Master Developer: We have a proven track record as an award-winning master developer, strategic partner, and asset management company for all major hotel brands.
Hotel Portfolio: Currently, we manage 45 hotels, with three under construction and over ten in the development phase, indicating our commitment to growth and expansion. (As of August 2023).
Preferred Developer: We are the preferred developer for renowned brands such as Marriott, Hilton, IHG, Sports Illustrated, Margaritaville, Hyatt, and Wyndham, solidifying our position as a trusted partner in the hospitality industry.
Food & Beverage Expertise: Extensive corporate experience in food and beverage, serving as a full-service hotel, restaurant, and bar concept developer and operator, including independent brand development.
0
Total Properties Managed

Investment
Dedicated in acquiring assets that consistently deliver strong returns to our investors.

Development
Industry leader in the planning, design, and construction of new projects.

Management
Driving performance through operational excellence while protecting the asset and ensuring high returns for our owners.
New Developments & Projects
Here's what we've been working on.